Edna's story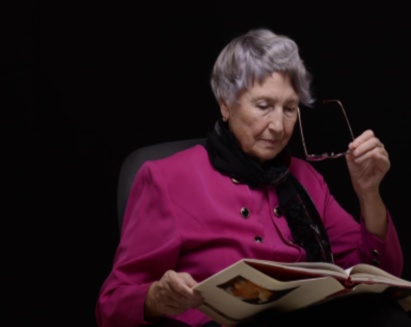 Edna is 86 and lives with her son in one-bedroom flat in Uttlesford. She was widowed 8 years ago after a 28-year-long happy marriage to her second husband. She has two sons from her first marriage – Ian who lives in Australia and Tony who moved in with her 18-months ago having been evicted from his flat as a result of rent arrears.
Tony is 58, divorced and unemployed. Edna believes that it was the break -up of his marriage to Tina that was the start of Tony's problems. Tina said he had been violent but as far as Edna could see Tina had given as well as she got – she was no shrinking violet
Edna dreads hearing the key in the door when he comes back – she never knows what's coming
Have you been affected by Domestic abuse?
Find help locally
– and she should have let Tony see his children. Edna thought that was at the root of why Tony drank so much – to blot it out. He was devoted to his kids- no–one could say he wasn't and he would do anything to see them – at least he did until she had an order slapped on him.
Tony has got some friends locally now – he is out most days but Edna dreads hearing the key in the door when he comes back – she never knows what's coming. sometimes he brings his friends back and they sit drinking till the early hours till they pass out, sometimes if he is early he has come back for money .At first she tried reasoning with him but now she doesn't bother – if she has got it he gets it -if she hasn't she gets it. Last Wednesday a neighbour called the police after hearing screaming coming from her flat. By the time they had arrived and called the ambulance Tony had left and Edna was found on the floor with facial injuries and what turned out to be a broken wrist.
At A+E Edna disclosed that this wasn't the first time Tony had hit her. This time Tony had assaulted her after asking for money.  She didn't have any to give him but he didn't believe her. She was admitted to hospital. The police were called but Edna refused to make a statement. After 10 days, and in spite of the best efforts of social services, Edna just wanted to go home.  She could not face the thought of taking Tony to court. Edna was referred by the A+E department to a domestic violence support worker called Emma who worked for a local Women's Aid charity.  Emma, a qualified Independent Domestic Violence Advocate (IDVA) who was able to build a relationship with Edna and visited her often whilst in hospital to get a full picture of the risks Edna faced and what Edna most wanted to happen. Emma worked closely with all of the hospital team, social services, the community safety partnership and the police and Edna's GP and another local charity to put in place a safety plan for her to return home including installing an emergency alarm, ensuring she had plenty of visitors going to the home keeping an eye on the situation, making sure that she was getting out, was not socially isolated and had all she needed. As a result of this multidisciplinary approach the GP was in a position to be made fully aware of what was happening in the home and this had an impact on Edna's son's treatment. There was a change in his medication and he was referred and strongly supported to access help for his drinking which he did. The situation at Edna's house is now much safer and her quality of life has improved.